The St. Thomas Battery Cell Gigafactory is on the way
The St. Thomas Battery Cell Gigafactory is on the way
O' Canada, we're fully charged for thee. On April 21, 2023, Volkswagen Group and PowerCo SE came together with the Government of Canada, Ontario and the municipal government to announce more exciting details for its first ever North American EV battery cell gigafactory, right here in St. Thomas, Ontario.
All the electrifying gigafactory details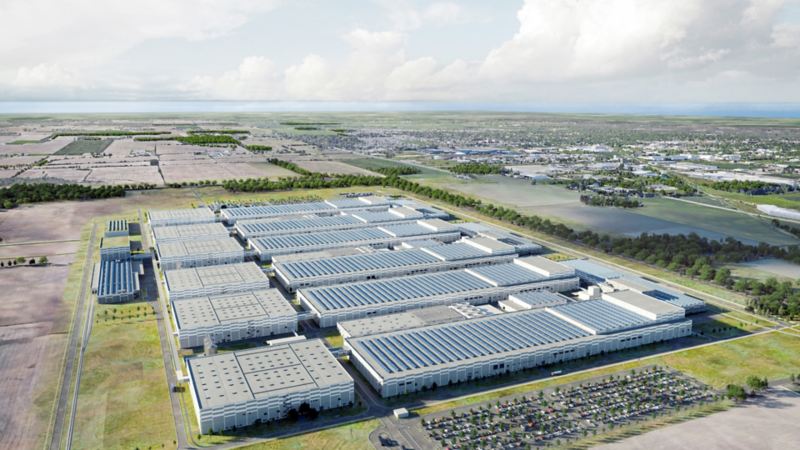 We've got the power
The St. Thomas Gigafactory will have six production blocks with a potential production volume of up to 90 gigawatt hours – enough for about 1 million EVs a year. Canada is about to literally lead the charge in our battery cell production.
Largest. Gigafactory. Ever.
Not only will this be PowerCo SE's first ever cell factory in North America, it might just be their largest ever. We're talking the size of 210 football fields just for the factory alone. The entire industrial park itself will span an area of 850 football fields. 
Powered up work force
Generating 90 gigawatt hours is pretty cool. Generating an entire workforce, that's just amazing. The St. Thomas Gigafactory will create up to 3,000 new, highly qualified jobs. Plus, it has the potential to create up to tens of thousands more indirect jobs at construction companies, suppliers, partners, along with local retail and other sectors.
Charging up our lineups
The Volkswagen Group has plans to introduce more than 25 new EV models by 2030. That's a lot of battery cells. Want to guess where most of those cells will come from? That's right – St. Thomas, Ontario. 
Go ahead and check out this press release for more details and see what Volkswagen, PowerCo SE, and government leaders have to say about this historic accouncement.
About PowerCo SE
PowerCo SE was founded by Volkswagen in 2022 with a clear vision to lead the charge in battery cell production on a global scale. PowerCo SE have made plans for three gigafactories – including the St. Thomas Gigafactory – with two of them now under construction. PowerCo SE are also in development of their own, cutting-edge cell format. In just over a year, PowerCo SE are already well on their way to becoming a global battery powerhouse.