Customized to your Volkswagen, our factory-recommended maintenance schedule helps prevent potential problems before they begin – with expert, Volkswagen-trained technicians and Volkswagen Parts.
Here's another reason why it pays to maintain your VW with us: pay for your first expert VW Brake Pad and Disc replacement service, and we'll cover the cost of your genuine VW Brake Pads for as long as you own your vehicle (installation and brake discs are extra).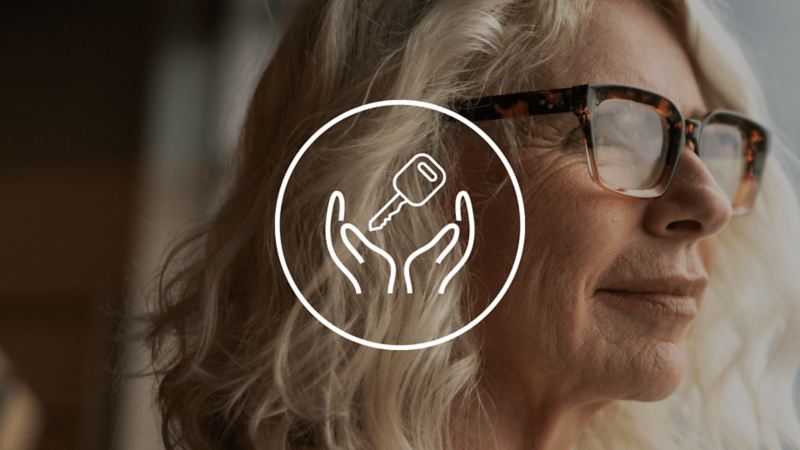 We're working diligently to help ensure the safety of our customers with contactless sales and service, convenient pick-up and delivery options, 24-hour online service appointment bookings, and worry-free Dealership sanitization.†
Stay on schedule with our service timeline
Volkswagen's factory-recommended service schedules are designed to keep your service costs remarkably affordable and predictable. Every regular scheduled service visit includes our comprehensive multi-point inspection and a 2-year / unlimited-kilometre limited warranty on Volkswagen parts and labour*.
*A limited warranty of 2 years, with no kilometre limit, applies when parts and accessories are ordered and installed after the purchase or lease of your vehicle. Parts and accessories must be sold and installed by a Canadian Volkswagen dealer to qualify for both parts and labour coverage. Labour coverage is exclusive for parts and accessories installed by a Canadian Volkswagen dealer.
Nothing lasts forever. Especially your brake pads. Fortunately, we've got you covered. Once you've paid for your first expert VW brake pad and disc replacement service at a certified Volkswagen Dealer, we'll cover the replacement cost of your genuine VW brake pads for the life of your vehicle, as long as you own the vehicle (installation and brake discs are extra).* Now that's an offer worth stopping in for. 
*To be eligible for the Lifetime Brake Pad warranty program, a customer must first purchase a set of new Volkswagen Brake Pads and matching Volkswagen Brake Discs and have these installed by a Volkswagen Dealer in Canada. Thereafter, the cost of replacement brake pads will be covered at no charge, as long as the same customer still owns the vehicle for which the first set of replacement brake pads and discs was purchased and installed by a VW Dealer in Canada. This Lifetime Brake Pad Warranty program is non-transferable. The program does not include cost of new Brake Discs, or installation.
Every. Single. Important. Detail. That's what our Volkswagen dealers check when you take your vehicle in for service.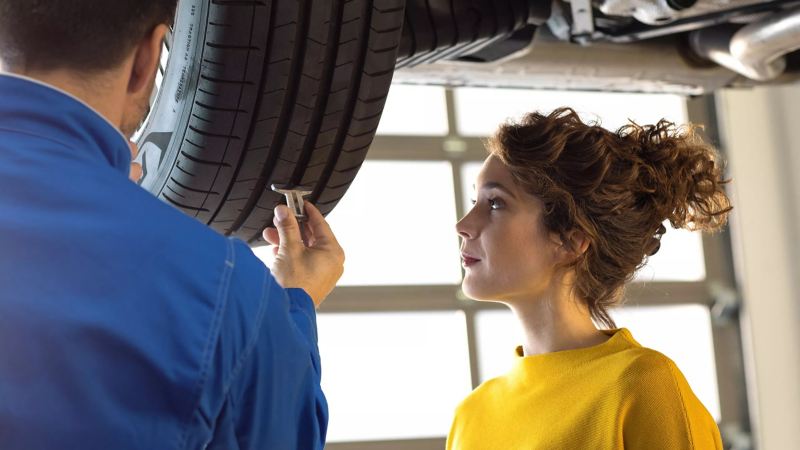 When you bring your vehicle to a Volkswagen dealership between your factory-recommended service intervals, a Volkswagen Certified Technician will perform the following multi-point inspection, designed to catch potential issues before they become problematic:
Tire wear inspection
Tire pressure check
Brake pad wear
Battery condition check
Engine, fluid and filters check on:

Windshield washer fluid level

Engine oil level and condition

Brake fluid level and condition

Hoses for heating, AC and coolant

Air conditioning and pollen filter check

AdBlue® fluid level (on some diesel models)
Exterior and drive components inspection on items such as:
Wiper wear and spray nozzles

Electrical inspection (horns, signals, lights)

Condition of wheels/alloys
Suspension and drive components examination on:
Shocks/struts and suspension components

Steering and steering linkages

Exhaust system (leaks, damage, loose parts)

Transmission/clutch operation and linkages
Talk to your Volkswagen dealer about a Volkswagen multi-point inspection during your next visit. Individual dealers may choose to restrict, add or substitute some of the items.
Certified collision repair

Not all collision repair shops are the same. Volkswagen Certified Repair Facilities know your VW best, with service, parts and warranty protection tailored to your Volkswagen.
Why choose 
Volkswagen

Certified Repair?

In the event of a collision, your insurance company can help with the claims process. But where you go for repairs is up to you.

Pro service
All labour is done by specially trained 

Volkswagen

service technicians and technical support.
Original parts
Only a VW-certified Collision Repair Facility can source new, genuine

Volkswagen

parts.
Warranty protection
Get peace of mind knowing all work, including parts, meet your warranty.
Your collision checklist
Download our Collision Report for more details on VW-certified collision repair, insurance compliance and more
Find your nearest

Volkswagen

Collision Repair Facility