2022, IT'S GOING TO BE FUNK.
From our new spokesman to the Volkswagen president in less than 45 seconds.
From our new spokesman to the Volkswagen president in less than 45 seconds.
What better place than the famous end-of-year Bye Bye show to announce the big news. Volkswagen announced that Pier-Luc Funk will be the first-ever spokesperson in the history of the brand in Quebec. And believe us, the Funk family is very proud. Even Pierre Boutin, president of Volkswagen Canada, is there to find out the hard way.
Pier-Luc Funk is known for his career as an actor, but also for his creativity and humor – and he's very excited to share his many talents with Volkswagen to help the brand shine in Quebec.
In his role as spokesperson, Pier-Luc will be contributing to our brand's advertising, as well as our aspirations for innovation, creativity, and the shift to electric mobility in the coming years.
"It is with great enthusiasm that I join the Volkswagen Canada team as its spokesperson in Quebec. I am thrilled to be able to contribute to their influence and image as a socially responsible company. Driven by a common vision of eco-responsibility, I am very proud to be part of the Volkswagen Canada family," says Pier-Luc Funk.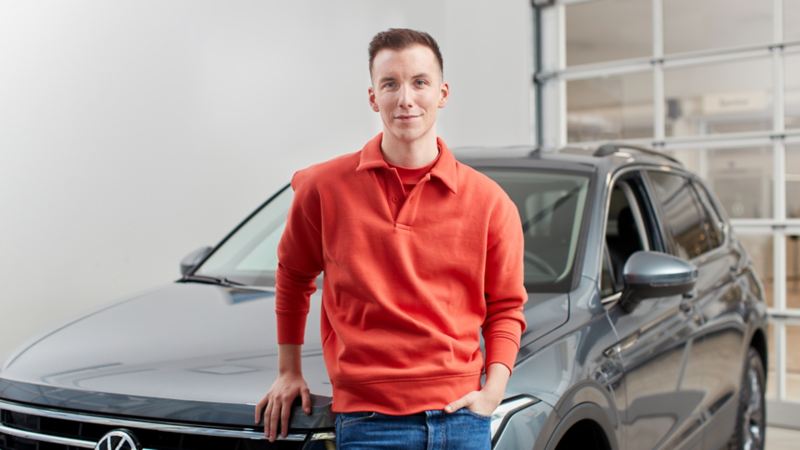 Pier-Luc's personality and social commitment makes him the perfect person to represent "Be the Change", Volkswagen's new brand platform.
"We are extremely proud to collaborate with an actor as socially-committed as Pier-Luc Funk. We know that he will be able to carry the Volkswagen brand with integrity and creativity to all our Quebec consumers," concludes Pierre Boutin, President and CEO of Volkswagen Canada.
2022 is going to be funk!