Get the most out of your EV battery

Get the most out of your EV battery

The Volkswagen high-voltage battery turns electricity to mobility in the Modular Electric Drive matrix (MEB). 
Warranty and maintenance for your
high-voltage battery
The key element of electric mobility is the high-voltage battery. You'll find all the important information about battery maintenance, charge management and warranty right here – so you can get the maximum benefit and optimum performance from your ID. vehicle.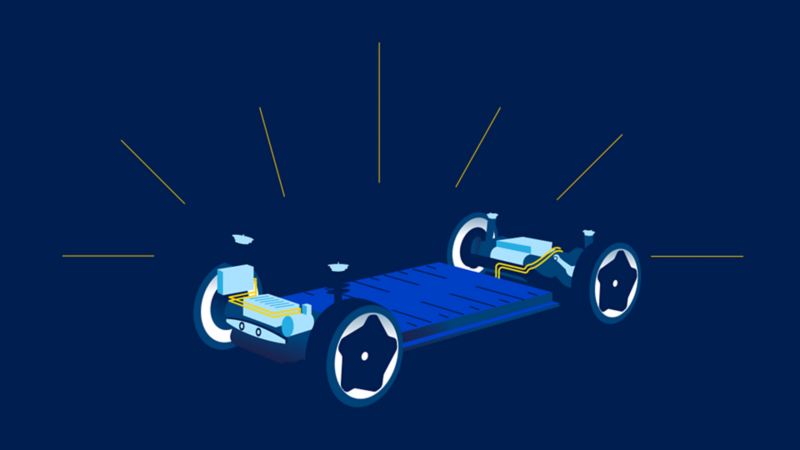 Good maintenance will get you far 
Like all batteries, a lithium-ion battery is subject to a natural process of ageing and wear. Using it correctly can help maintain its health and capacity. So follow our tips below to help ensure your ID. vehicle maintains not only its range capacity, but also its value in the long term. 
Three golden rules for better range 
It's relatively simple to take care of your high-voltage battery. Just follow the three golden rules below and you've already done the most important things. 

For daily usage,

Volkswagen

recommends setting the charging target at 80%. Before long trips,

Volkswagen

recommends setting the charging target at 100% for the highest possible range, and then driving off as soon as possible after charging is completed.

 




 

If the vehicle will be unused for longer than 12 hours, leave it parked with a battery charge level of at least 30% and no more than 80% (e.g., at the airport before a trip).

 




 

When possible, avoid regular fast charging with direct current (DC).  While suitable for road trips, the high rate of current while DC charging stresses the lithium-ion high-voltage battery more than AC charging. Frequent fast charging can permanently reduce the battery capacity of the high-voltage battery.

 
Make your life easier 
with the charge manager
We recommend using the intelligent charge manager to help ensure your ID. Family vehicle is optimally charged before every trip. Whether you want to set battery charge limits, set charge locations, or choose between immediate or delayed charging, the infotainment system makes it easy to perfectly manage the high-voltage battery.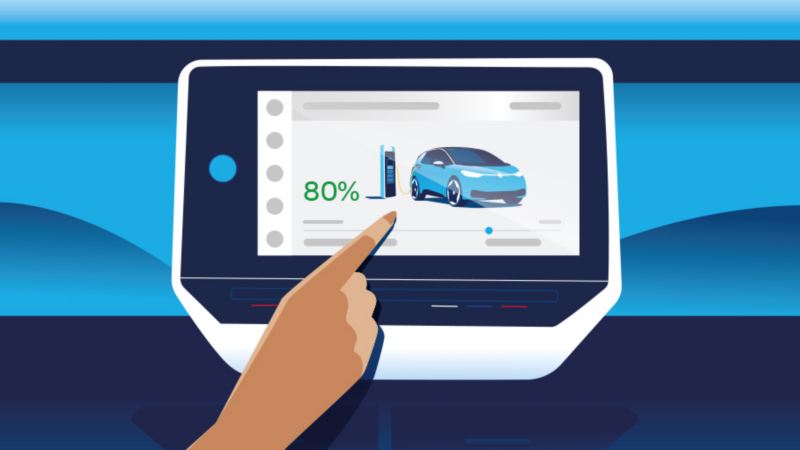 Different types of driving, different types of charging 
The way you drive is directly related to the way you charge. Both short trips and extended highway journeys have different effects on the optimal charge limit, time and intensity.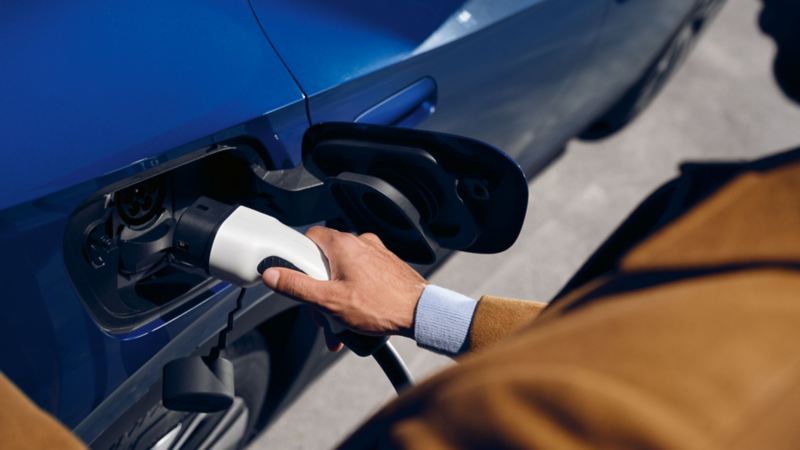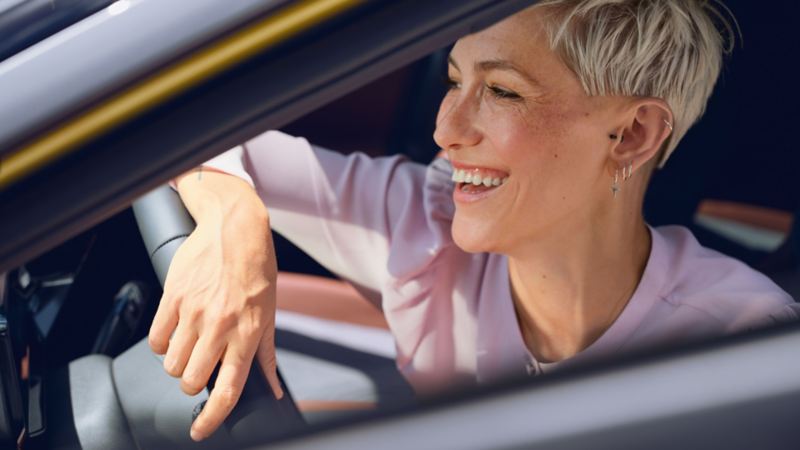 Warranty and life cycle
The lifespan and performance of a lithium-ion battery also depend on exterior factors, such as outdoor temperature. The high-voltage battery is warranted for 8 years or 160,000 kilometres (whichever occurs first), for defects in material and workmanship causing a net capacity loss below 70%.*  This provides you with security for the future and proves how important sustainable mobility is to us.

*Warranty does not apply if the defect has been caused by the battery not being used, handled or maintained as described in the owner's manual. Gradual reduction in battery net capacity over time is integral to the nature of the components and does not represent a defect under the terms of the warranty, as long as the reduction in net capacity is not in excess of 30%.
Systematic Battery Protection
Our EV batteries have two emergency reserves of power; the first to prevent overcharging, and the second to stop your battery from discharging completely. This way, the batteries are designed to allow your vehicle to access energy in exceptional situations.
Capacity of the

Volkswagen

ID. battery 
Protection against overcharging (4%)

 

Protection against total discharge (6%)

 
Explaining the ID. Family battery system  


The heart of the MEB platform is a fast-charging battery system consisting of a number of battery modules – depending on the desired range.

Each module contains 12 lithium-ion battery cells that are stacked, folded and enclosed in a flexible outer film. Thanks to the "pouch cell" design, they're flexible and optimally adaptable to the specific requirements of any EV. In addition, their smooth surface also provides high heat dissipation to help prevent your battery from overheating.
The battery system of the MEB electric platform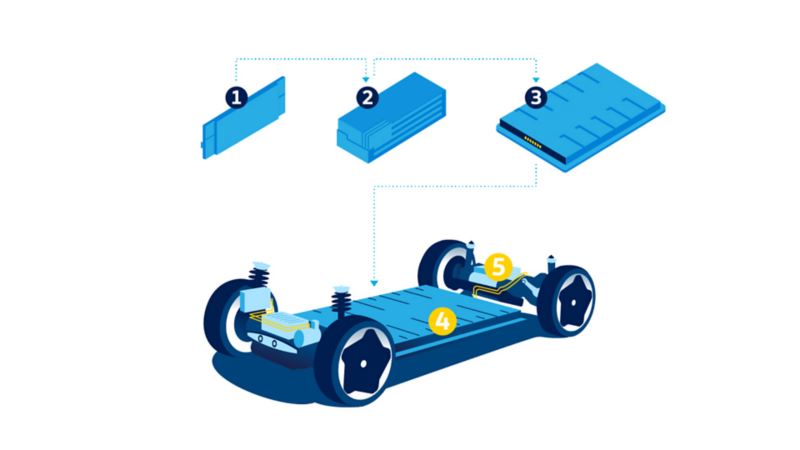 Simply electrifying: the lithium-ion battery  
Every lithium-ion battery cell consists of four components: 
During the charging process, the lithium ions travel from the cathode to the anode and are stored there. The electrical energy from the power grid is converted into chemical energy. 
During the discharging process – for example, to power the electric motor – it works the other way round: the lithium ions now travel from the anode back to the cathode and convert the chemical energy back into electrical energy. 

Five main raw materials are needed to produce lithium-ion battery cells: a compound of cobalt, nickel and manganese for the cathode (this structure helps to store the lithium charge carrier), graphite for the anode, and lithium, which is contained in the electrolyte.

The components of the battery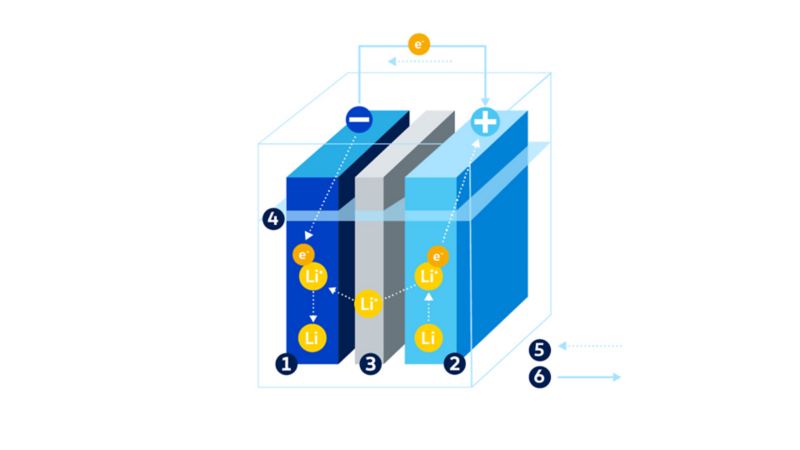 The three Rs of EV batteries



After eight years, or 160,000 km, up to 70% of your EV battery capacity should still be available. Inevitably, there will come a time when the battery is not capable of optimally powering a vehicle. At that time, the battery can be reused, remanufactured or recycled.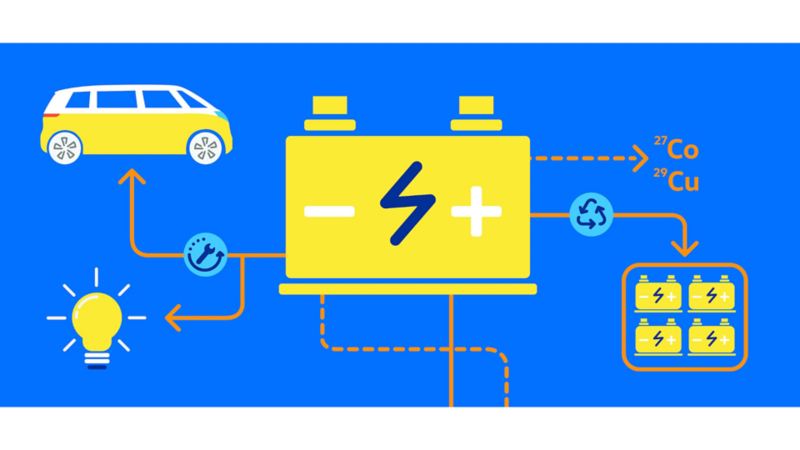 Reusing

In addition to recycling, battery life extension plays a central role in our group battery strategy. We plan to bundle used vehicle batteries together to form much larger batteries. In turn, these batteries will help power both Volkswagen plants and co-operative projects with cities and suppliers.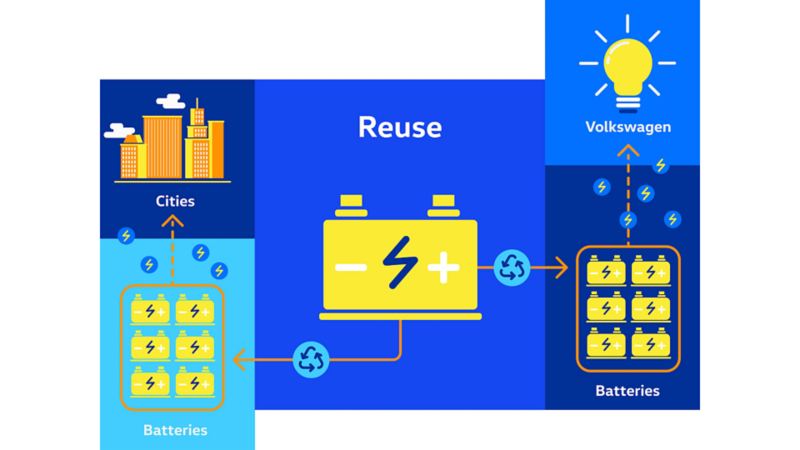 Remanufacturing 

By replacing certain internal components, some used batteries can be used in electric vehicles again. Parts taken from used batteries can also go into storage to be used again later.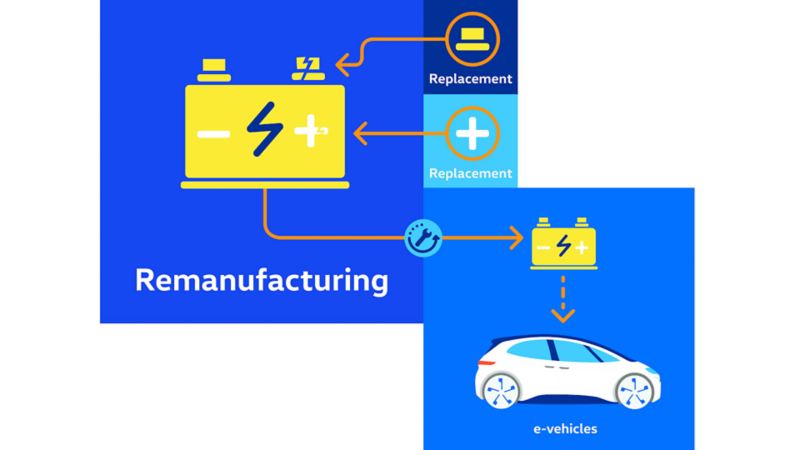 Recycling 

Sooner or later, a battery will need to be recycled. This is done carefully and safely in co-operation with a number of recycling partners, which helps ensure that we keep waste to a minimum.
"The batteries are dismantled, crushed and reprocessed. Here, raw materials such as nickel (28Ni), copper (29Cu) and cobalt (27Co) are recovered in large quantities and can then, for example, be reused in the production of new battery cells." 

– Tobias Enge, Group Strategist in the business field of e-mobility and infrastructure