Jetta GLI – Power to the people
Jetta GLI – Power to the people
You don't need special effects to showcase the GLI's power. All you need is a few dozen cameras and a NASCAR driver.
When was the last time you drove a car on an aircraft carrier? How about atop a skyscraper?  Been there, done that?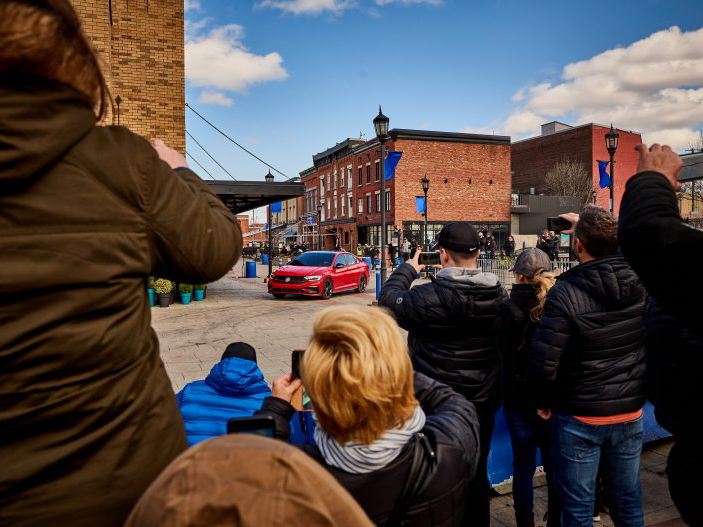 Thanks to CGI technology, such impossible settings have become standard backgrounds in car commercials. But while it's neat to look at, it's not real

So, when it came time to showcase the 2019 Volkswagen Jetta GLI, we decided to buck the trend by highlighting the thrilling performance unique to the GLI.
Of course, this being VW, we added some unique twists, beginning with the driver. For this, we asked NASCAR racer Maryeve Dufault. A longtime Volkswagen fan, it didn't take much to convince her to take the wheel – especially since we chose her hometown, Sorel-Tracy, Quebec, as our location.
Next, we hired Hoonigan director, Brian Scotto, creator of the Gymkhana film series. With more than 550 million views, the viral videos depict cars in jaw-dropping situations. Gritty and real, Hoonigan is the antithesis of CGI. The idea: Scotto would direct the shoot, with professional lighting and a crew, but without cameras. Instead, we invited local residents to capture the event using their smartphones, GoPro cameras, drones and selfie-sticks. Finally, we added a campaign name, "Power to the People," the very essence of the GLI itself.
The engine is so powerful yet quiet, with great response and torque," says Dufault. "It's a lot of fun to drive.
On the day of the shoot, dozens of people showed up ready to hit 'record'. It was quite the spectacle, with Dufault kicking up dust as she drifted through corners at breakneck speeds. For many, the highlight was when the GLI performed the notoriously difficult Rockford Slide, a reverse 180 on a bridge not much wider than the car itself.
By the end of the 14-hour shoot, the crowd shot enough raw footage to fit onto an eight-terabyte drive, which Scotto then sculpted into a commercial the likes of which CGI could never reproduce.
Because you can't fake power.
View the video below or catch it in select Cineplex theatres this summer.