Volksgiving has arrived 

And this year, we're celebrating VW Owners who've gone the Extra Distance to help their communities, to make the world a more inclusive place, and to create a sustainable future for us all.
And this year, we're celebrating VW Owners who've gone the Extra Distance to help their communities, to make the world a more inclusive place, and to create a sustainable future for us all.
Experience the joy of this year's Volksgiving
Meet the Owners who've gone the Extra Distance
Sheilagh H. Brechin, ON 
32,901 km
As a humanitarian, Sheilagh has traveled the globe helping people from all walks of life. One such journey involved providing humanitarian aid in Kabul, Afghanistan and then driving her Volkswagen all the way to her then home Cork, Ireland. Talk about a trip!
For her Volksgiving celebration, we gave Sheilagh a surprise that honours her trip and the memories it created.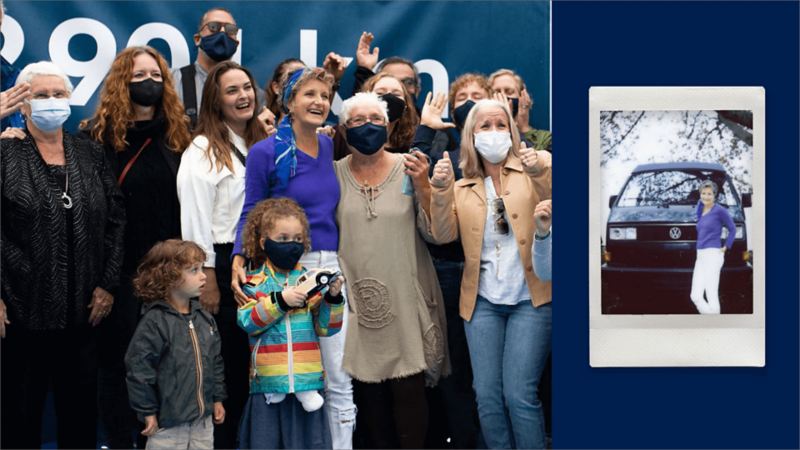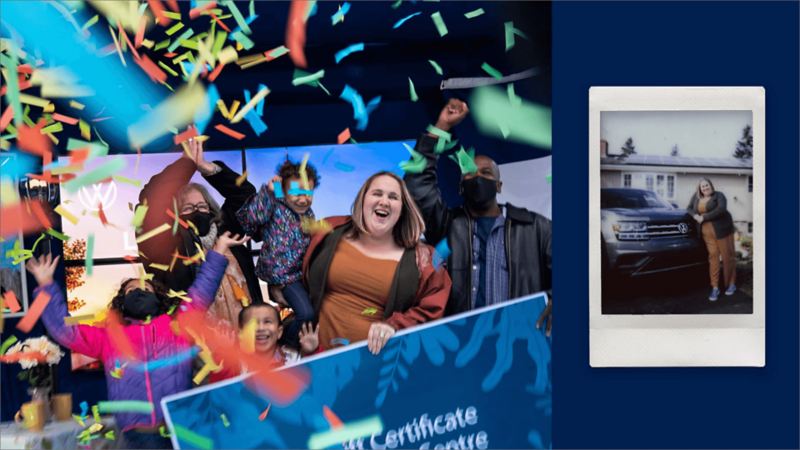 Lauren F. Halifax, NS
47,219 km
Lauren is a full-time mom, who also volunteers to help run a local vegetable garden for her community. With a little help from her Volkswagen Atlas and a lot of tenacity, Lauren has created a sustainable and free alternative to the local supermarket that people from all around can enjoy.
To honour her, we gave her something for her community garden and surprised her with a trip to a destination she's been dreaming of since she was 12 years old.
Lars C. Calgary, AB
719,897 km
Lars loves to make people laugh everywhere he goes. So much so, that he made it his profession as a touring comedian. He's taken his Volkswagen Jetta all across North America to brighten people's lives. What keeps him motivated is getting to his goal of over one million kilometres in his Volkswagen to share his comedy.
To thank Lars for all the laughs, we surprised him with a trip to the most famous comedy city in the world.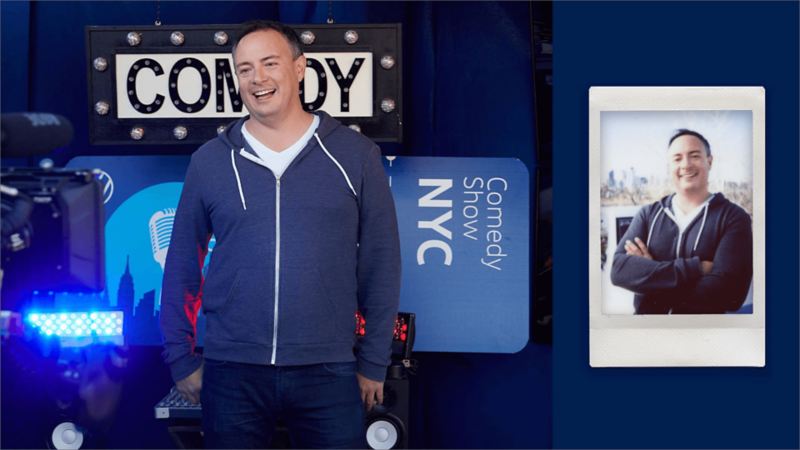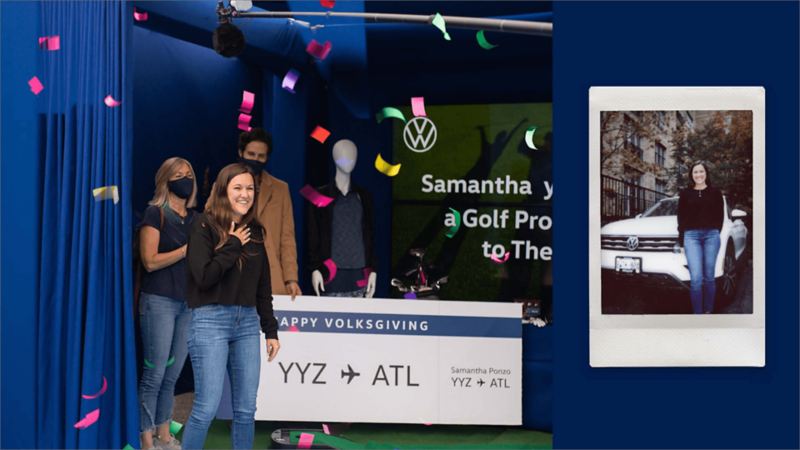 Samantha P. Toronto, ON
122,343 km
Samantha is passionate about early childhood education. So passionate, in fact, that she drives a 3-hour commute in her Volkswagen Tiguan every day just to teach. For her, going the Extra Distance means doing everything she can to be the best teacher she can be to her students.
Outside of her love for teaching, Samantha has a passion for golf. See as her Volksgiving celebration ends with a hole in one. 
Stirling J. Spruce Grove, AB
13,394 km
Not only is Stirling a police officer, but he's also a musician who writes country music as a personal outlet. As a lifelong Volkswagen Owner, he uses his kilometres to benefit the veteran community, to share his music with others, and raise awareness for the indigenous community and mental health.

For his Volksgiving, we surprised Stirling with a trip to the home of country music.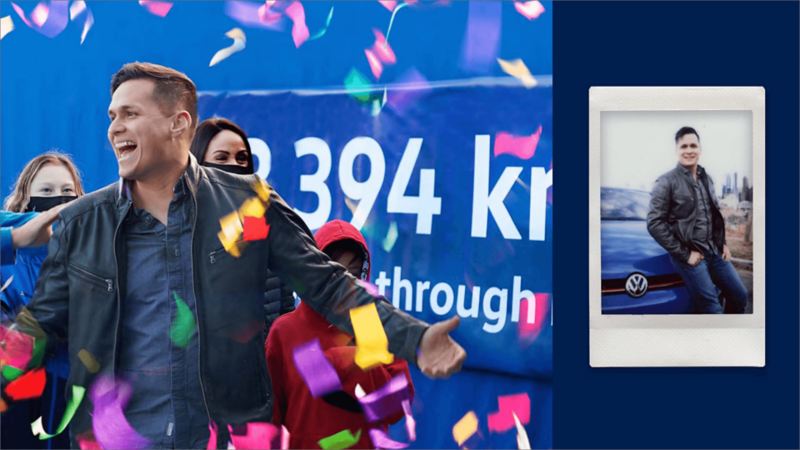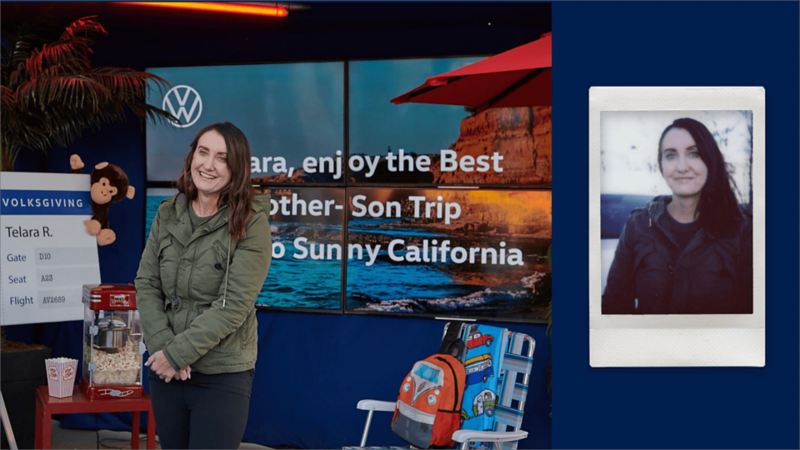 Telara R. Calgary, AB
232,286 km
Telara is a mother to a loving son with Down syndrome. When she's not taking her son for day trips to the nearby Alberta mountains in their Volkswagen Cross Sport, she's busy raising money for Down syndrome initiatives and promoting Down syndrome awareness. Creating a more inclusive world for her son is so important to Telara that she's doing everything in her power to make it happen.
To thank Telara for all the work she's done, we surprised her with an experience specially designed for her and her son.
Kristen A. Halifax, NS
232,286 km
As an avid runner, Kristen has used her Volkswagen Jetta to travel to training spots for a marathon to benefit trauma victims. Whether it's getting to group training meets, or solo trail runs, Kristen takes it on with a smile.
That's why for Kristen's Volksgiving, we surprised her with an experience tailor-made for a lifelong sports fan.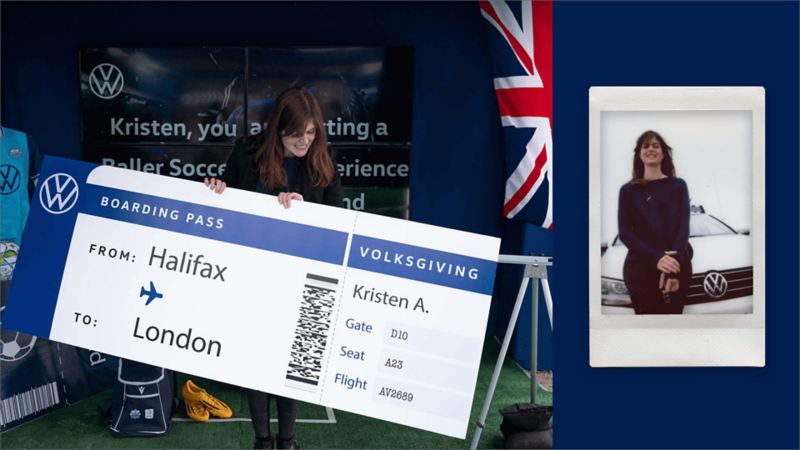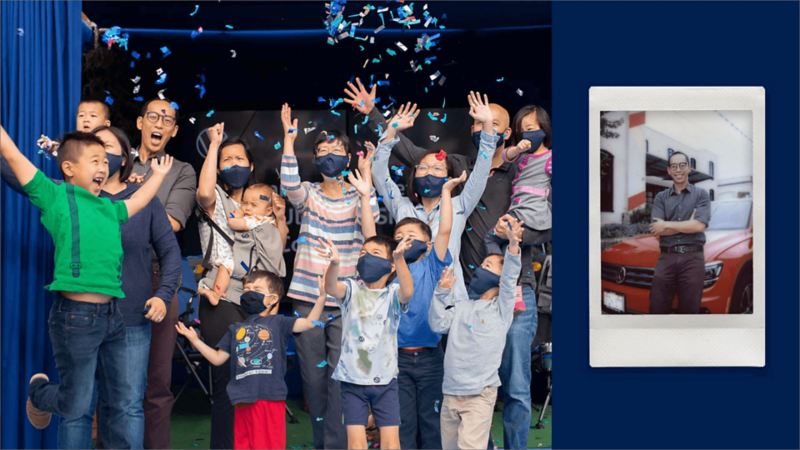 Henry S. Oakville, ON
47,219 km
When Henry's father was diagnosed with cancer, he was understandably devastated. The first thing he and his family did was purchase a new Volkswagen Tiguan so they could drive him to his appointments and be together during such a challenging time. Every kilometre on his Tiguan reminds him of the time they had together, the memories they created, and the importance of his extended family.
That's why Henry's Volksgiving surprise wasn't just for him, it was something made to bring his family together.
More great stories from VW Owners who go the Extra Distance

As a member of the Canadian Armed Forces, Sohrab has over 100,000 in his Volkswagen traveling and exploring Canada on active duty. His recent transfer brought him to Colorado, adding even more kilometres to GTI and his Extra Distance journey.

Lauren has put over 90,000kms in her Jetta as a physiotherapist at a nursing home helping those severely affected by COVID. Because of her Jetta she's able to provide care, keep residents safe, and provide the comfort they need. That's going the Extra Distance.

Chanelle D., Liverpool, NS


Chanelle has gone the Extra Distance in her Tiguan by helping her son with spina bifida. Over 85,000kms have been driven to give him a safe, comfortable ride to all the places he needs to get to.

Dawn A., Smiths Falls, ON


The Atkinson family have put over 100,000kms in their VW to help support Veterans. Every one of their kilometres' represents an ear to listen, a friend to help,  a veterans provided with much needed support.

With over 300,000kms driven over multiple Volkswagens, Brent spent a large portion of his kilometres helping to construct large solar farm construction sites. For him, going the Extra Distance means helping to create more sustainable world.

Isabelle has gone over 100,000km helping support people's mental health as a social worker in her hometown. Supporting people's mental wellness doesn't just end with therapy, Isabelle and her Tiguan go the Extra Distance by taking them to doctor's appointments, grocery shopping, and many other places they need to go.

Samantha Q., Hamilton, ON


Samantha has over 250,000kms on her VW helping those who have suffered through a disaster to their property. As a public adjuster, Samantha goes from home to home ensuring those who have been affected by floods, fires, tornados, or any other natural disaster get the help they need to get them back on their feet.

Abhinav K., Scarborough, ON


Abhinav and his family immigrated to Canada 3 years ago. Since he's arrived he's gone over 100,000kms in his Atlas going the Extra Distance building memories with his family and newborn baby in their new home, Canada.

Sylvia has nearly 100,000kms on her Tiguan going to the Extra Distance fo her husband who had just gone through major surgery after a cancer diagnosis. They specifically chose the Tiguan together because it had enough room and adaptability to get him to his appointment comfortably and safely.

Jennifer P., Port McNeill, BC


Jennifer newborn daughter was born with a heart defect and she and her husband have taken their VW nearly 100,000km to make sure she gets the best care possible. In order to go the Extra Distance, it was important they had a reliable vehicle that will get their daughter to her next appointment, safely.

Bernadette M., Canal Flats, BC


Bernadette is an operating room nurse that has over 200,000kms on her VW traveling to and from her job. She's very thankful her Tiguan offers her is a 'safe and comfortable' ride home when a particularly long operation that goes well into the night.

Kevin Y., West Vancouver, BC


Kevin and his young son Bear have put in nearly 50,000kms being super heroes for their community. With the help of their Golf R they've created and delivered face masks for first responders, raised money for a new VW for a family after an accident, donated iPads and toys to children in hospital, and so much more. Going the Extra Distance is a part of Bears DNA.

James has gone the Extra Distance with over 85,000kms on his Tiguan volunteering for Big Brothers & Big Sisters Canada. For him going the Extra means bringing a smile to kids faces with trips to the batting cages, mini put, and the local arcade.

As the biggest Canadian Women's Soccer team fan, Sora has put in over 120,000km on her Golf supporting the team wherever they're playing. Sora made it her mission to show the nation there's an audience for women in soccer and sports in general and she put in the kilometres on her VW to prove it.

Aida and her 1989 Volkswagen Westfalia have put in the kilometres. Starting in Wolfsburg, Germany, Aida drove all the way to Morocco. From there, She then crossed the Atlantic to arrive in Montreal. But the adventure doesn't stop there. Aida took her Westfalia from east to the west and to the southern United States on several occasions thereafter. For her, going the Extra Distance means seeing and appreciating the world, and her Volkswagen lets her just do that.

Kelsey H., Campbell River, BC


When Kelsey isn't studying to be a nurse, she's taken her Volkswagen over 30,000km working as a care aide to seniors through the pandemic. For her, going the Extra Distance means that every kilometre should represent her commitment to be there and help those who need her.

Michael S., Boisbrian, QC.

Michael took possession of his new Tiguan R-Line last July, and since then, this once single father has been accumulating the kilometers to the delight of his newly formed family. Michael, his two children and his girlfriend's two children go the Extra Distance by creating lasting memories during big camping adventures. No wonder Michael chose the 7-passenger Tiguan!

Ryan has owned his VW Rabbit for 10 years and has almost 300,000 kilometres on it living the life he wants to live. From finishing his first exam in university, to running in his first marathon, going the Extra Distance to him is all about bettering himself and his VW was there for moment.

Cody has owned many different Volkswagens over the years and has traveled Canada serving in the Canadian Armed Forces. Recently, he really put in the Extra Distance in his VW by raising money for local charities in Victoria, BC where he's stationed. Cody is passionate about helping out not only his community, but also his country and he believes Volkswagen has given him the tools to do just that.

Michelle is 72 years old, has been driving VWs for almost 40 years, and is still passionate about Volkswagens. Over the years she's owned Jettas, a Golf, and a Passat, Clearly, she knows VW as well as we do! For her, going the Extra Distance means treating yourself and having fun, and she uses her kilometres to do just that.

John loves soccer. That's why he goes the Extra Distance in his Jetta traveling the province coaching kids in the sport he loves the most. With over 360,000km on his VW, what makes it all worth it is seeing the joy they have after a big win. 

Maude H., Trois-Rivierès, QC

Maude is a university research professor of nursing. Since the start of the pandemic, she has offered her expertise as a nurse clinician on weekends and evenings. This summer, she traveled in her Jetta to the Magdalen Islands to help the CHSLD. This 20-hour expedition was not only a lot of fun on the way, it made her feel good that she was going the Extra Distance by offering her help to those in the Madelinots who needed it.

Sean L., Vankleek Hill, ON

Sean coaches competitive AAA hockey and needs his VW to go to practices, games, and even tournaments in faraway cities. He loves knowing that almost every kilometre of the over 180,000 he's driven on his Jetta has gone to coaching kids to play the game they love, and seeing their dreams come true. 

Samantha goes the Extra Distance in her VW as a small business owner that aims to motivate others to be healthy, strong, and be confident in who they are. With nearly 100,000km on her Jetta, every drive brings her even closer to her goal of creating a more inclusive and accepting world. Keep driving Samantha! 

Antoine lives and breathes Volkswagen. He currently owns a Golf Alltrack Exceline but from the age of 16 once he got his driver's license, he's been a VW owner. He goes the Extra Distance by visiting his small grandchildren and enjoying life to the fullest.

When Satpal isn't teaching his daughter how to drive in their VW Beetle, they're going the Extra Distance for their community. Together they filled up their trailer multiple times with essentials and hitched it in their Beetle to local shelters in Vancouver, Lytton, and Kamloops. The best part for them is seeing the faces of gratitude of the volunteers when they roll up in their Beetle, it makes every drive worth it. 

For over 20 years, Rebecca has been going the Extra Distance with Volkswagen in so many different ways. From Seattle, to Boston, to wherever she's needed, she's traveled the continent as a Nurse Practitioner picking up patients, driving them to their appointments, and delivering their medicine. And Rebecca's good deeds don't just end with humans, she also volunteers as a driver for shelter dogs, transporting to their 'furever homes'. With almost 400,000km across all the Volkswagen's she's owned, Rebecca is what going the Extra Distance is all about. 

Joaquim not only goes the extra distance in his VW, but he does it on his bike as well. This past summer he drove his Volkswagen across Alberta to various cycling locations, biking to raise money to fight childhood cancer. Every kilometre represents another dollar earned towards ending cancer once and for all.

Vera Lyn P., Brampton, ON


Vera Lyn has over close to 300,000kms on here Volkswagen, a portion of those kilometres were used to help create and deliver face masks to those who needed them at the height of the pandemic. When Vera Lyn isn't donating to others, she puts in the kms in her VW to get to her job as a police officer.

Adrian purchased his Volkswagen Golf GTI knowing he needed a reliable vehicle that he could travel with across America as a contract nurse. Since then, he's gone nearly 100,000km going the Extra Distance helping his patients and being there for other healthcare workers across the continent.

Going the Extra Distance for Theodora is all about self care. The moment she became a Tiguan owner, her and her best friend embarked on the greatest road trip ever, one she'll never forget. Theodora wants everyone to know that doing good and going the Extra Distance for yourself like you would for others is just as important. You deserve it!

Sean is an avid rock climber and when he isn't driving to his climb, he's going the Extra Distance in his Jetta using his talents to benefit charity. With nearly 100,000km driven, the thing single thing he's most proud of to giving back to his community.

Brenda W., Georges River, NS 

During the Pandemic, Brenda has been putting in the kilometres in her Jetta providing in home lab services to those that can't travel to the hospital. Because Brenda goes the Extra Distance, many families are spared the anxiety that comes with bringing in a loved one who are not well enough to travel on their own. Thank you for your services, Brenda! 

Dany D., Saint-Anaclet, QC 

Dany has been driving VWs for over 22 years and he's only 40! 4 Golfs, 3 Jettas, a Touareg and hundreds of thousands of kilometers, following his dreams and going the Extra Distance. He says he is one with the road, and honestly, we believe him!

Marlene has owned her Jetta for over 10 years and has driven nearly 300,000km. During this time, when she wasn't driving her kids everywhere they needed to go, she was driving the Extra Distance volunteering her time to the Children's Aid Society. And not only that, as an essential worker during the pandemic, without her faithful Jetta to get her around none of the work she does would've been possible. 

Peggy B., Orangeville, ON 

With nearly 100,000 km in her Volkswagen Atlas, Peggy goes the Extra Distance as a registered physiotherapist providing in-home care to the injured, elderly and disabled. She's grateful that her Atlas gives her the ability to make real difference in people's lives.

Veselinka B., Calgary, AB

Over the course of an impressive 400,000km, Veslinka has put in the Extra Distance in her Jetta as a driving instructor, giving people the ability to drive on their own. She's thankful that after all these years she still has a safe, reliable, and comfortable vehicle that her students love to learn in.

Mazin is a pharmacist and has been at the frontlines against the battle against COVID-19, driving his Golf GTI to provide immunizations across the province of Ontario. He takes a lot of pride in the work he's done to help us all get back to normal and is thankful for his reliable VW that gets him where he's needed. 

Emily B., St. Catherines, ON

Emily goes the Extra Distance in her VW driving to help people in her work as an Obstetrician. In the height of the pandemic, Emily got pregnant with her third child not only needed a vehicle that'd could reliably and safely get her to her job as front-line worker, but one that was big enough to accommodate her growing family, that's why she chose her VW Atlas.